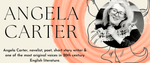 Born in 1940 in a quiet suburb in Eastbourne, Angela Carter was one of the boldest and original writers of the 20th century. Breaking various long-established taboos Carter's work centred on women and the control of their own narrative.
Being provocative and subversive in nature work is intertwined with violent and graphic content. Drawing on an eclectic range of influences ranging from the gothic to fairy tales, she carefully crafted stories that have a modern edge.
Angela Carter… was one of the most important writers in the English language
Growing up in London Angela lived with her journalist father and her mother who was a cashier at Selfridges. Much of her childhood was spent with her grandmother as she escaped wartime bombing. As a young girl, she was spoiled and zealously sheltered by her parents, particularly her mother who indulged her in edible treats leaving her severely overweight. Approaching her late teens' carter decided to put some emotional distance between herself and her mother, taking medical advice she went on a rigorous diet and took up smoking and swearing- much to the dismay of her conservative parents.
Carter's shy introverted childhood led her to become a defiant unconventional youth into a self-confident woman.
Concerned with unpicking the mythic roles and structures that underwrite our existences in particular the topic of gender identity, being explicit in viewing femininity as a social fiction. Creating a culturally choreographed performance of selfhood. 
Carter's controversial work of cultural analysis and femininity can be seen in all of her work. The Sadeian Woman highlights Angela's experiences living in Japan, where she worked in hostess bars, which further intensified her feminism. In the first piece of non-fiction she published, she re-evaluates the Marq de Sade, encouraging her readers of sexual liberation in an oppressed society.
The Bloody Chamber, one of Carter's most successful books, is a collection of fairy tales often wrongly described as reworkings of the traditional tales. Carter instead describes "My intention was not to do 'versions' or, as the American edition of the book said, horribly, 'adult' fairy tales, but to extract the latent content from the traditional stories and to use it as the beginnings of new stories." By drawing out latent sexual and violent content from the traditional tales, the collection became fiercely subversive. The Bloody Chamber becomes multi-faceted as it details numerous portraits of desire and sexuality, more importantly, it focuses on heterosexual sexuality-busting taboos surrounding female sexual liberation. The heroines within the stories escape the straitjacket of history and ideology.
She is unafraid to "scorn the powerful and cruel and thoughtless."
Noted as a prolific writer, Carter dared to examine 'forbidden' topics such as pornography, sexual fetish, cannibalism, rape, and incest. Difficult topics are seen in Carter's novel Love. Love is a tale of loyalty and love amid emotional starvation, following a destructive love triangle between a psychologically unstable woman, her husband, and her unpredictable brother-in-law. The writing is intense and full of violence and anguish, with the threesome clashing in a whirlwind of love and hate.
Ahead of her time in many ways, Carter's fearless writing style embraced aspects of fairy tales traditionally sanitised to suit children and younger audiences. Embracing the eroticism of fairy tales and 'reworking these into darker, more sinister tales where the female heroine takes control of her own fate, Carter became ahead of her time in her way of thinking. The liberation Carter enabled in her books reflects her anti-misogynistic views, not anti-man but wanting for equality between the sexes. Particularly in The Bloody Chamber the women are freed either by killing the big bad male villain or by going into the difficulties they face; it is Angela's liberation in her books that make her come into her time now as her books still hold huge importance today.